WhatsApp Business for multiple users with Sociocs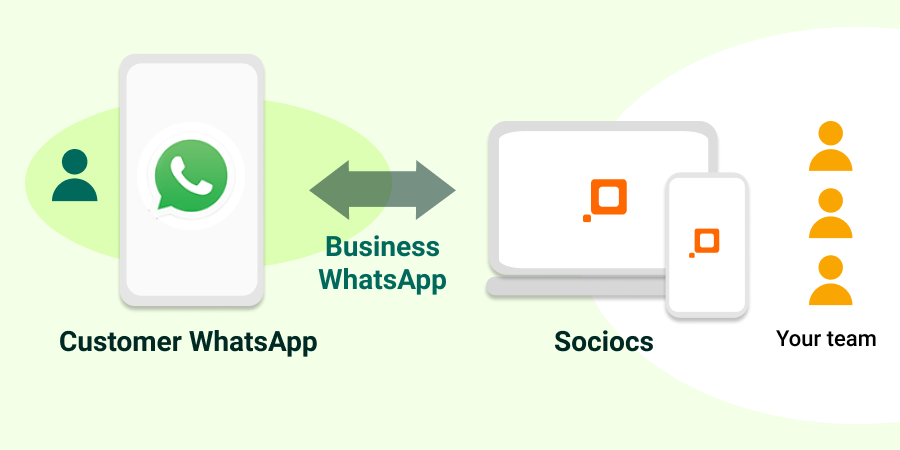 Being on WhatsApp Business is important for any business. With 2 billion users worldwide using WhatsApp messenger, it makes sense for the businesses to be where the customers are.
Primary way to reply to WhatsApp based customer messages has been using the WhatsApp Business App. This app works very well for small businesses where having only a single user access is not a problem. Some businesses requiring multiple user access apply various work arounds to meet their needs. However, there is an option available for multi-user access as a business which is officially supported by WhatsApp. It is with the WhatsApp Business API.
WhatsApp Business API started with very limited preview for large companies. However, WhatsApp has now opened up the approval process, and it's available for business of any size. It just takes a couple days to get approved, and ready to go. On Sociocs inbox, you can connect WhatsApp Business API, and have multiple team members engage your customers with ease.
Business Solution Provider (BSP)
WhatsApp has selected a few providers to offer their API access. These providers are called Business Solution Providers (BSP). First, you would have to create an account with a BSP.
Sociocs supports two major BSPs:
Picking the right BSP (Twilio and Gupshup comparison)
Both Twilio and Gupshup provide reliable service. However, you should make your choice primarily based on below two points:
1. Phone number availability
Twilio - You need to have a new number purchased or existing number hosted with Twilio. They charge as low as $1 / month for a phone number.
Gupshup - You can use your own phone number. One limitation is that you need to use a number that is already NOT registered on WhatsApp.
2. Cost
WhatsApp channel is included in our FREE plan. WhatsApp itself and the BSPs do charge for the Business API access, however, the cost is very affordable for any business. The convenience of engaging customer on Sociocs with all of your team members easily outweighs the minor cost.
Here is the pricing information for India.
Session messaging
Incoming messages from the customers, and replies.
| BSP | Per message cost | For 1,000 messages |
| --- | --- | --- |
| Gupshup | ₹0.0740 | ₹74 |
| Twilio | ₹0.3700 | ₹370 |
Template messaging
Business initiated outgoing messages to the customers using predefined templates.
| BSP | Per message cost | For 1,000 messages |
| --- | --- | --- |
| Gupshup | ₹0.3848 | ₹385 |
| Twilio | ₹0.6808 | ₹681 |
As you can see above, it doesn't cost a lot even for a large volume. Pricing is pretty much on par with the SMS cost from your local provider.
For more pricing details visit Twilio pricing and Gupshup pricing.
---
Once you are all set with one of the BSPs mentioned above, you can start using WhatsApp Business on Sociocs in a couple minutes. You just have to go to Channels page, and follow instructions for your BSP.