The importance of SMS in customer communication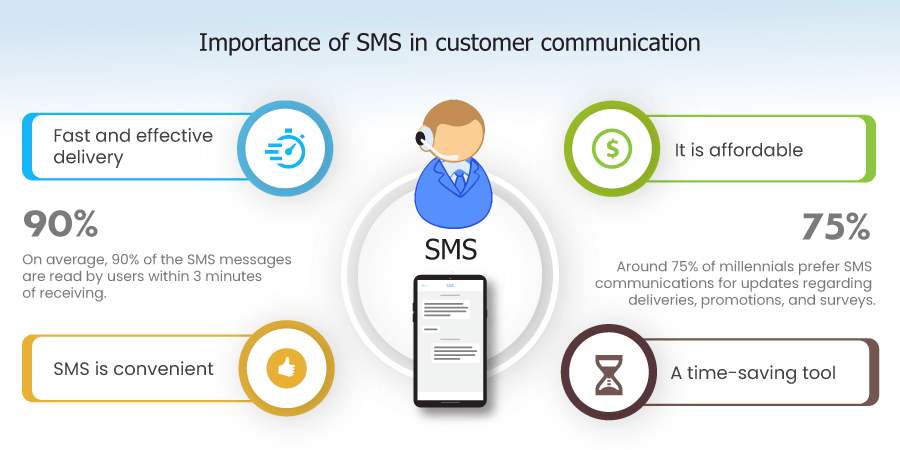 In this era of smartphones, SMS / text messaging is one of the oldest ways of communication as it has been almost 25 years since the first one was sent. The early 2000s were the era of the SMS as it changed the world completely by bringing in a new approach to our communication habits. The use and application of SMS have matured through these years and today it is an important tool for sending authentication codes and verification requests for adding an extra layer of security to various financial transactions. While it does not play an as important role in our daily communication with friends and family as it used to, it would be incorrect to assume that SMS has lost its significance. With its simplicity and affordable nature, it is still playing an important role in various areas of customer communication, especially for businesses.
In the past few years, SMS has been pushed to the background by the various chat services. In spite of that, SMS still forms an important method for communicating for various brands, banking institutions and other businesses. For any business, SMS is a great tool that allows fast one-to-one customer interactions. Apart from being simple, it is also one of the most easily accessible channels for communicating with the customer. With the number of mobile users amounting to around 5 billion around the world, SMS is an effective way to connect the entire world. So as a business, if you think that SMS, in its current state, cannot be used to promote customer relationships, you have strayed far from the truth.
On average, 90% of the SMS messages are read by users within 3 minutes of receiving. — VoiceSage
Let us look at some factors that make using SMS a very effective way to reach out to your customers.
Fast and effective delivery
It is one of the fastest and most efficient methods of delivering a message to the customers. At the same time, it does not need a mobile internet connection like chat services, making it easier to use for a wide range of people. In addition, the right SMS can stand out from an array of digital advertisements and attract the much needed customer attention. It can be used to update and inform the customer and also to market a whole range of products in an effective manner. By putting the information right into the phone of the customer, it adds a touch of immediacy to the communication.
SMS is convenient
SMS app comes already installed on all the phones. With a 98% opening rate, SMS is also a globally adopted service that customers like to use. Many businesses have reported that customers prefer an SMS over phone calls and they also respond to survey or review links more positively when these are sent through an SMS. Most people glance at their phones at regular intervals and respond to that beeping sound of an arriving new message with a sense of excitement. Majority of customers keep their phones within reach at all times, making SMS one of the most direct ways of communication. Whether you want an appointment with a doctor or a hairstylist, you can get a confirmation through one simple message.
When it comes to marketing surveys, response to SMS is 45% whereas the response rate for emails is just 6%. — MarketingProfs
It is affordable
The bulk SMS messages can be sent at a much cheaper price than any other traditional form of marketing media like TV, radio or print media. At the same time, the level of personalization that they offer is much more than any of the other platforms. This makes it a valuable tool not only for the big firms but also for the small business houses. At the same time, a business does not need to use a large amount of resources to develop strategies on this channel as there are a variety of proven tactics readily available out there.
It is an integral part of multichannel communications
While email and voice calls have their own utility, they are not suitable for all customers. SMS can effectively fill up this gap by being an ideal choice for time-critical notifications or simple inquiries. This also leads to shorter waiting times and lesser delays in the resolution of an issue, resulting in better customer experiences. SMS also comes with an opt-out feature which means that the customers who are receiving them want to remain informed. The same cannot be said about other modes of communication that are used. With email facing the barriers of spam and junk email filters, SMS can also be better tracked through the delivery reports.
A time-saving tool
A single message can be sent to multiple users with proper scheduling, making it a huge time-saver. This allows the business resources to be used effectively in other fields. You can also easily personalize the message for multiple categories of users in different manners which can help in boosting sales and improving customer communication. It is also a two-way tool which allows you to receive feedback from your customers in a simple and fast manner.
Around 75% of millennials prefer SMS communications for updates regarding deliveries, promotions, and surveys. — MMW
Using SMS for customer engagement
Leveraging the SMS channel to enhance your customer engagement strategy can include the following steps.
Promoting your products effectively
With the higher rate of response that SMS messages generate, they are an effective tool for marketing campaigns apart from the other standard forms of marketing. SMS allows you to target your audience precisely and send the limited-time offers and special product launches right at their fingertips.
Sending reminders
This is an often underutilized aspect of SMS that can help in reminding your customers about any event, due date or an occasion. The messages can be scheduled so that they can be sent automatically, adding to the overall convenience.
SMS based customer service
Using text-based customer services can bring about more customer satisfaction than web-based platforms. Since customers are always in touch with their phones, they can reach out to the business with a simple text in case of any issues or a problem. From the perspective of the business, this makes providing service easier and reduces the load on the voice-call segment.
Effective surveys and polls
SMS can be an effective way to ask for feedback about your products and services. Due to the limited word count of SMS, the messages can be kept short and direct, making them easy to interpret and act upon. This will also make the customer feel that the business gives importance to their views and is interested in connecting with them on a more personal level.
Consumers in South Korea, India, Singapore, US, and UK prefer using SMS over voice calls for customer service. — Twilio
Ground rules
While sending SMS messages, there are some ground rules that you need to follow to make the message effective. Here are the most important ones.
Ask for the customer's permission first and always provide an opt-out option.
Be precise about the value you are offering and remain cordial in your approach.
Include a call to action to enhance overall engagement.
Send messages from an SMS enabled local or toll-free number instead of using a short code so that the customer can reply back.
---
Check out our blog post using Sociocs as a Twilio Front-end to see how you can combine powers of Twilio SMS back-end and Sociocs front-end for your business.
---
SMS is a powerful tool that can be effectively used to reach out to the customers and boost your company's customer engagement. To streamline your customer service efforts across multiple channels including SMS, choose the Sociocs Inbox that effectively combines all communications into a single inbox.
Don't hesitate to reach out to us at hello@sociocs.com with any questions.