Premium digital customer service best practices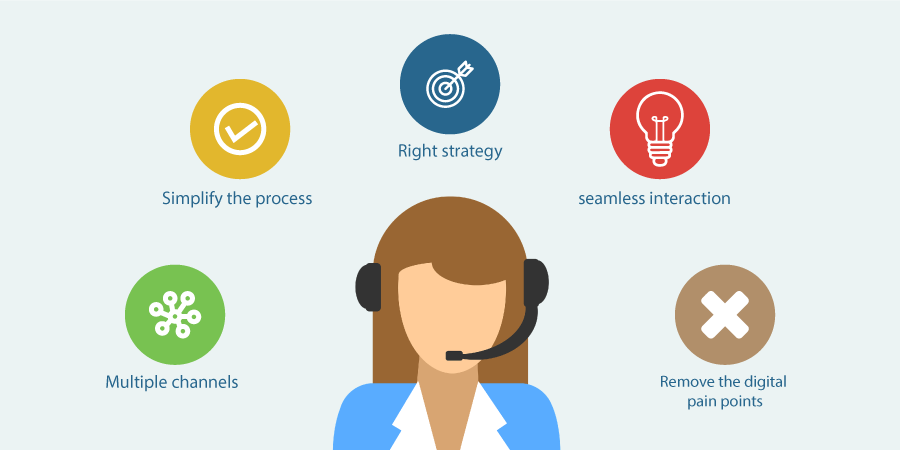 As digital devices have already become an integral part of our lives, we are constantly connecting with various brands and companies through digital channels. It is a fact that a large section of the population communicates more through the digital networks than they do in person. So the need for an enhanced digital experience for the customers is more than ever before. In the past few years, a whole lot of brands have made significant investments to provide customers the necessary service through digital channels. With digital channels of communication like web, email, social, or text messaging making interactions easier, customers expect the same level of convenience from the brands.
Studies indicate that around 86% of buyers are willing to spend more for a superior customer experience.
The importance of digital customer service
When you are in touch with your customers through multiple digital channels, it provides the right speed and convenience to meet their expectations. Enhancing customer experiences through digital channels will maximize customer retention and improve customer satisfaction. These developments will in return have a positive effect on your revenue. One of the most important advantages of digital channels is that they deliver a faster response for the customer for any query he or she might have placed. It also prevents the need to physically visit a business center by placing the ease of communications right on the screen of a smartphone.
Studies have also indicated that brands that interact effectively with customers through digital channels have developed a better brand image. In addition, social media has also made a huge impact on the customer service industry in the past few years. While many companies understand the significance of these channels, they often lack the resources to make the best out of the opportunities at hand. The implementation of the right digital tools to maximize customer satisfaction levels can give your business the much needed edge over your competitors. A classic example of a brand that offers a seamless digital experience for customers is Uber, which has developed an intuitive and efficient interface.
A customer is four times more likely to choose a competitor if the problem is service-related rather than price or product-related. — Salesforce
The methods to improve digital customer service
Let us now take a look at a few practices that will help in sharpening the digital services of your brand.
Make the best use of multiple channels
Many brands make the mistake of putting too much emphasis on website-based service chat support. But the fact remains that many customers do not engage with a business through this channel and prefer other means of communication. The role of mobile applications, social media and various forums cannot be underestimated when it comes to digital customer service. Any brand that is serious about digital customer service should develop the right strategies to approach customers through multiple digital channels. This should be done while keeping an eye on the emerging tools and technologies of the present and the near future.
Develop the right strategy
Simply adding the service of digital channels will not be sufficient without developing the right strategy behind it. A digital strategy manager should be able to think from the customer's perspective and understand how each channel will be perceived and used by the customer. The process of digitization of customer services should not be a reactionary step but a thoughtful process that will take every factor into consideration. In many cases a digital setup may not address the most common queries from the customers, forcing them to reach out to the human-based contact-center of a business. This may result in more customer frustrations instead of enhancing their experiences. It is important to study the necessary data and get to know one's customer base before framing a digital strategy.
Email is still the most commonly used customer service channel and 54% of consumers have used email to contact a company in 2018. — Forbes
Simplify the process
The aim of using digital channels is to offer convenience to the customers and not to make them work harder. Some companies make it difficult for a customer to find their contact number after establishing digital self-service channels. This will lead to a reduction in the levels of customer satisfaction and can even drive them towards the competitors who offer a more transparent setup. It is important that clear service standards are maintained to offer the best experience. For example, you can design the system to put a customer back in touch with the same service person with whom the original interaction was done. This can help in resolving queries in a quicker and more effective manner.
Remove the digital pain points
While implementing a successful digital customer service, a business should be ready to identify the bottlenecks in the system and resolve them effectively. A large percentage of web-based interactions remain unsuccessful due to specific pain points in the system. Such interactions can lead to confusion, dead ends, unresolved queries and ultimately, a dissatisfied customer. With fast changes in technology, these pain points are also changing continuously with new ones originating. The companies need a planned approach to tackle these issues across multiple channels and analyze the data regularly to remain updated about how these issues are affecting the overall customer interactions.
Offer a seamless interaction across channels
All customers want a smooth experience no matter what the channel of communication is. So delivering a consistent experience across phone, email, chat and social-media is an absolute must. Once the needs and expectations of the customers are mapped, it is necessary to integrate all the touchpoints. This will allow the digital service team to deliver the right service with the correct timing. Unless you are confident about your resource capability in providing a uniform experience, do not get enthusiastic about introducing new channels. Inconsistent service can do a lot of harm to your business reputation that is hard to erase. Take the help of the available tools to make the process easier and cost-effective for your business.
Embrace technology to boost your capability
While enhancing the digital customer services, you need to be aware of the role that AI-based technologies can play in the coming days. With the immense power of AI to analyze data, fast and effected service can be delivered and it can be effectively personalized based on the past history of a customer. From delivering personalized recommendations and content to acting as a personal assistant, AI is the tool that can stay "on" at all times, without getting limited by emotional baggage. In addition, AI-based tools can also study the data to uncover various hidden business opportunities that can be linked to customer behavior.
---
We hope that these tips will help you to enhance your digital customer service capabilities. You can always try the Sociocs Inbox to integrate the multiple channels for customer service in the best possible manner. Other than offering a simple interface, it is also completely FREE. Do not hesitate to reach out to us at hello@sociocs.com with any queries that you might have.