One Inbox for all your Customer Communications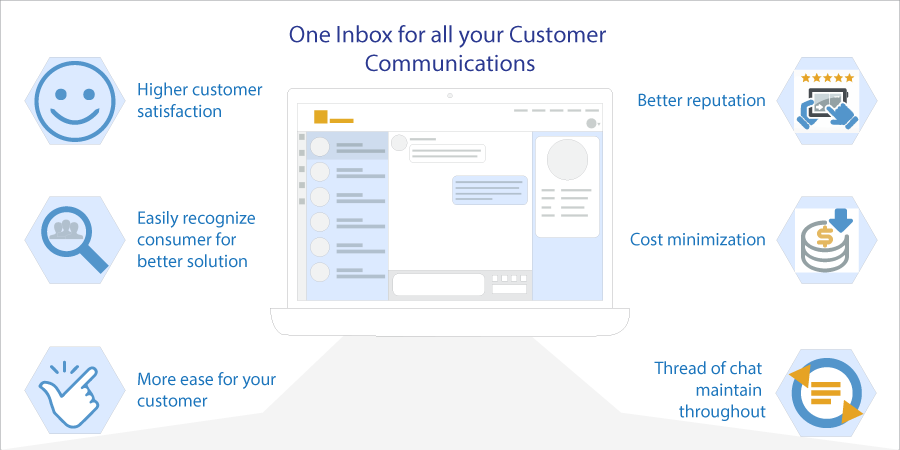 If your business is in the run to grab more customers to scale the heights of success, providing the best Customer Service is sure to be the top-priority in your list. Thankfully, to take your customer service from 'Okay' to 'Wow' spending more budget is not always necessary but staying abreast with the latest technology is imperative.
According to the 2017 Report by State of Global Customer Service, 54% of customers have higher expectations for customer service compared to a year ago. The number is 66% for consumers between 18 and 34 years of age.
The above report stresses clearly on why your business needs to focus more on better Customer care when you are aiming to be the 'Steve Jobs' in your business.
Call based customer service still holds some ground but the total scenario is changing much quickly than anticipated. With the rapid increase in the number of people with easy internet access, platforms like Emails, Social Media & Messaging has come up as more convenient communication platforms for customers compared to calls.
Now the problem is, customer care over calls is a single point service, which means, there is only one channel through which your customers are reaching you but when it comes to internet based platforms there are more than few options (& the numbers are expected to increase even more) through which your customers can & will reach you. Now communicating with customers over different online platforms can not only make the task more time consuming but also less effective, hampering the overall customer satisfaction.
So, when you are making the jump of upgrading your customer care by adding social media platforms as well as messaging & email services in your customer support list, it is essential to also opt for the latest technology that lets you reap the full benefits of using these platforms.
In order to make sure that your brand is able to offer service as per the expectations of the customers using an integrated inbox is the best solution. The technology not only seamlessly weaves all the customer communication platforms like Social Media, Messenger, Email, SMS at one place but also ensures that the thread of chat is maintained throughout, irrespective the channel of communication for a particular customer.
So, let us quickly go through the benefits of using a single Inbox for the different customer care channels like social media, messengers, SMS, reviews, and more.
Better Customer Service
Integrating all the Customer Communications on a single inbox will make sure that you do not miss out any part of customer communication & all the exchanges are available on the same thread, which will enable customer care executives to easily recognize a customer to provide effective solution to their queries or problems.
Lesser Response Time
According to Statista, 48% of consumers look for a response to their social media queries within 24 hours.
When you have many customer care channels to handle together the chance of missing out on a particular comment, query or question is much higher which will inevitably result in delay. On the other hand, with all the communications at one place, you can considerably cut down on the response time.
More ease for your customers
Quickly attending to your customers' queries over their preferred platforms, makes it much easier & less complicated for your buyers to reach you. While this makes your customers more at ease, also adds to your customer care efficiency.
Higher Customer Satisfaction
Better resolution of problems within minimum time directly affects customer satisfaction, which is the key to customer retention. Standing at a point when it is predicted that 89% of businesses are competing mainly on customer experience (Gartner), using the technology that ensures higher customer satisfaction for your business is a 'Must Have'.
Better Market Reputation
Better customer service is directly related to better market reputation. Moreover, when you attend your customers directly on social media pages by replying to their public comments, reviews concerning your business, you not only satisfy the person making the post but also encourage other potential buyers to ask about your services.
Cost Minimization
Having a single Inbox for all your online customer communications also makes it much easier & systematic to handle the whole communication process, enabling minimum number of executives to attend to many queries in an effective way within minimum time. The unified inbox saves your company valuable man hours, thus helping directly in cost minimization.
---
So, now it's time to make the decision. If you decide to make the jump to stay well in the competition but not sure about how to do it, Sociocs is here to help with all the tech-assistance you might need. Feel free to shoot us an email at hello@sociocs.com for any queries regarding how to implement this latest technology in your existing system.