Turn Twitter presence into effective customer support tool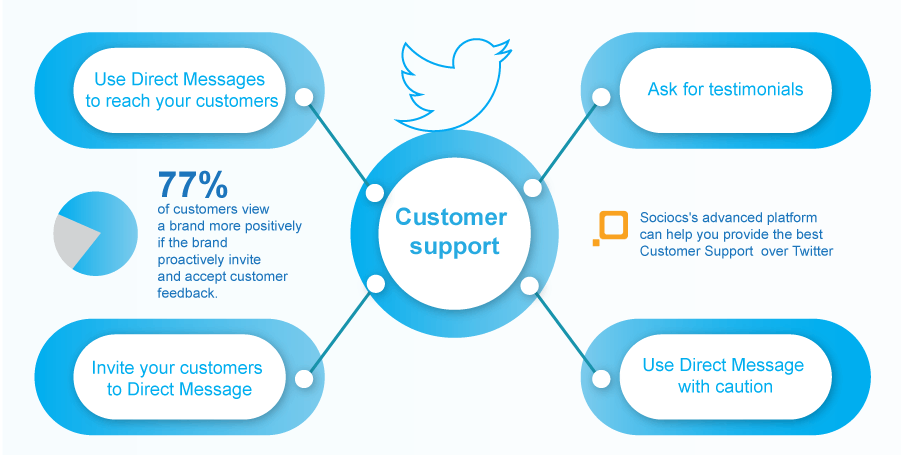 With 139 million daily active users Twitter is a platform that should be in focus when it comes to expanding the reach of your business. Twitter works effectively for social marketing and can help your business not only to reach prospects but also to turn them into customers & the customers into repeat buyers. Moreover, it can be your go to option to revamp your customer support which is often the ultimate determining factor for your customer in making buying decisions.
People are 31% more likely to remember what they watched on twitter
So, using Twitter to put your brand at the front of the mind of your buyers is certainly a wise step but only routine tweets & posts is not sufficient to achieve that 'Great Social Marketing' level which can win the customers & keep you ahead from your competitions. This is where Customer Support over Twitter comes in.
If you are not sure about how to turn this 140 character bound platform into an effective customer support tool, here is all the information you need
Along with publishing your own optimized content on a regular basis, fueling public conversations around your brand & offering personalized customer support are the keys to reap the full benefits of this platform.
Use Direct Messages to reach your customers
The first step to turn your Twitter presence into an effective customer support tool is to turn on the Direct Messages feature on your account. This comparatively new & 'personal side of Twitter' is a great way to provide personalized customer support. This feature enables the business to connect personally with any user following the page & the business necessarily needs not to follow the user back to engage in private communication over messages.
With this feature turned on any prospective customer or even a curious user can easily reach you with queries or for information. This feature also makes it more convenient for customers to share personal information with the business for effective customer care.
Invite your customers to Direct Message
According to latest trends, personalized messaging is a preferred way of customers to reach any business for support.
So, once you have activated the Direct Message option on Twitter, it's time to let your customers know. When a user reaches you through @reply he is certainly expecting a @reply back & not a Direct Message. In order to let the user know it is important to invite the user to Direct Message first through @reply & then continue the conversation on the private channel.
This will also give out the message to other users following you on Twitter that you are attending customers over Direct Messages, which can work as a great encouragement for more customers to message you privately.
Ask for testimonials
Positive reviews can increase the conversion rate by 133% for mobile shoppers (Bazaarvoice)
Testimonials are a powerful marketing tool in the web world. Using your Twitter Direct Messages to ask for reviews from customers who are already discussing your brand or service can be highly effective to enhance your brand presence in the digital world. According to latest studies, there is one even greater aspect of asking customers for feedbacks about the brand or service.
77% of customers view a brand more positively if the brand proactively invite and accept customer feedback. (Microsoft)
So, do not hesitate before asking your Twitter followers to write a review or testimonial about your service or product but always make sure that you place the request to the customers who are most likely to discuss positively about your brand.
Use Direct Message with caution
The option to Directly Message a customer on Twitter even without following them gives great power to the businesses to reach more customers & to offer better customer service over the platform. However, it is important for the brands to make sure to use that power carefully. Sending out automated or marketing material to your users over Direct Message regularly can have a serious negative impact on your brand reputation and might lead to adding your brand to the Spam list.
However, on the other side, it can be a great way to keep your customers updated about latest happenings in your brand, offers, new collections that might interest them. So, curate your content properly & use Direct Message on Twitter wisely to get the full fledged benefits.
Customer expectations & how to meet them
When it comes to providing customer care over Social Media platforms like Twitter, it is important to consider the customer expectations because only providing social media based customer service is not sufficient. The service needs to be cutting edge, so that it can add to your brand value & business growth.
72% consumers have mentioned that when contacting customer service of a brand they expect the agent to already know who they are, their purchase history, and insights into their previous engagements. (Microsoft).
Customers also expect immediate reply from the brand when they are communicating over a social media platform for customer support.
For brands providing customer service over different social media platforms (e,g, Facebook, Instagram, Twitter etc.) meeting all these expectations can be a little difficult which might lead to losing a valuable customer & reputation. In order to ensure that you are at the top in your social media customer service game & able to meet the expectations of your customers, availing advanced technological tools is a wise decision.
Sociocs has developed an advanced platform that can help your business to meet all these expectations of your customers. At one hand this platform can ensure quickest reply to all customer messages & comments on every social media & direct messaging apps and on the other help your customer service executive to have the right insights about the customer beforehand to ensure effective resolution.
---
To know more about how we can help you to revamp your social media customer care, mail us at hello@sociocs.com.