Encourage customers to reach over social media & messenger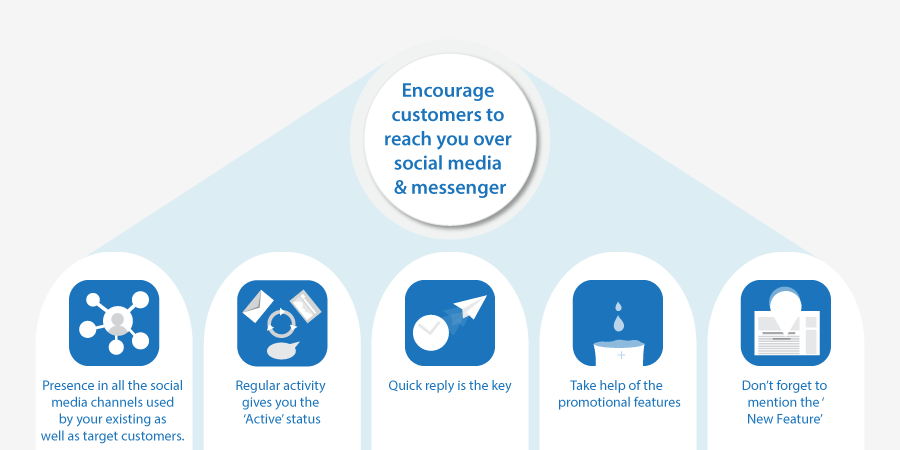 Attending customers over social media platforms & messengers can add a golden feather to your customer service. At one hand it helps your customers to reach you more easily & on the other it helps your business to offer better service at less cost, creating a win-win situation for both. However, the shift from traditional 'over the call' customer care to 'over the web' service needs few but well-planned steps & encouraging your customers to reach you over social media & messenger is one of the most important in the list.
63% of customers expect brands to offer customer care over social media and 90% social media users have already used the platform to communicate with a company. (Source: Smart Insights)
So, encouraging your customers to connect over social media & messenger is not going to take a lot of push but it certainly needs to be well organized. If you take all the right steps from the beginning, it is nothing more than a cake walk but the wrong start can easily put you off balance.
Not sure about how to make the perfect plan to encourage your TG for communication over Social Media & Messenger? We are here to help.
The first step
To encourage customer communication over social media & messenger the first & foremost thing is, your business should have an active presence on these channels. Just being present will not do the job; your presence needs to be dynamic & participating.
It is also important to keep in mind that having an active presence only in one or few social media & messenger platforms is not sufficient, it is important that your business have the right presence in all the social media channels used by your existing as well as target customers.
While Facebook along with its Messenger platform & Whatsapp currently hold the biggest chunk in the market, Twitter is one of the most recommended channels to build brand value & authenticity. Instagram also has a noteworthy presence when it comes to customer interaction.
In case your business does not already hold an account on all these platforms, start with creating your brand page on each of these channels. While creating your company profile make sure to keep on the features that enable other users (read your existing & potential customers) connect you at a single click.
Once you are all set, it's time to inform your customers.
Regular activity gives you the 'Active' status
Your customers will be encouraged to connect with you over social media platforms only when they will realize that you are thoroughly active on the channel & they can expect a response from you within minimum time. A regular post that connects your brand with the audience or shares knowledge is a very good tool to convey your active presence to your customers.
It is important to keep in mind that no one likes to see only advertisements on their social media feed, so always bundle promotion with interesting information & visuals. Promoting offers that can grab the interest of your buyers is always a good way to go. According to latest studies, instead of sharing texts, focus more on images & infographics, just to make sure they are more catchy to your customers.
Promoting customer queries as well as their reviews on your social media page is also a great way to encourage more customers to get in touch over these platforms. Posts with quizzes, competitions, offers & gifts naturally increase user engagement.
Quick reply is the key
While regular posts on your timeline will confirm your 'Active' status on the platform, replying to the customer comments & queries within minimum time will encourage more customers to reach you through these platforms. Word of mouth has huge power in business & when it comes to social media, effective & quick resolution of problems or queries of a single customer can be the key to reach & encourage more people to get in touch with you.
If you need help to make your social media & messenger replies quick & more effective to reap the full benefits of these platforms, Sociocs has the most advanced technology to assist you in & out.
Take help of the promotional features
The social media platforms like Facebook, Instagram & others come with different promotional features that you can customize & use to easily reach your existing customers as well as their friends, families & even other users with similar interest or buying pattern. These features can work as a great tool to inform your customers about your 'on the web' customer service & to encourage them to connect over these platforms.
Don't forget to mention the 'New Feature'
Once you start with customer service over social media it is important that you mention it in all the right places. Make sure to include your social media handles for customer care in every printed communication of your brand. Also inform your customer about the online service verbally whenever your executives happen to have a direct communication. You can also encourage customer communication over these channels by highlighting the ease & efficiency of customer service over social media & messenger.
---
For any technical assistance regarding customer care over social media & messenger, feel free to write to us at hello@sociocs.com.