How customer service can put you ahead of your competitors?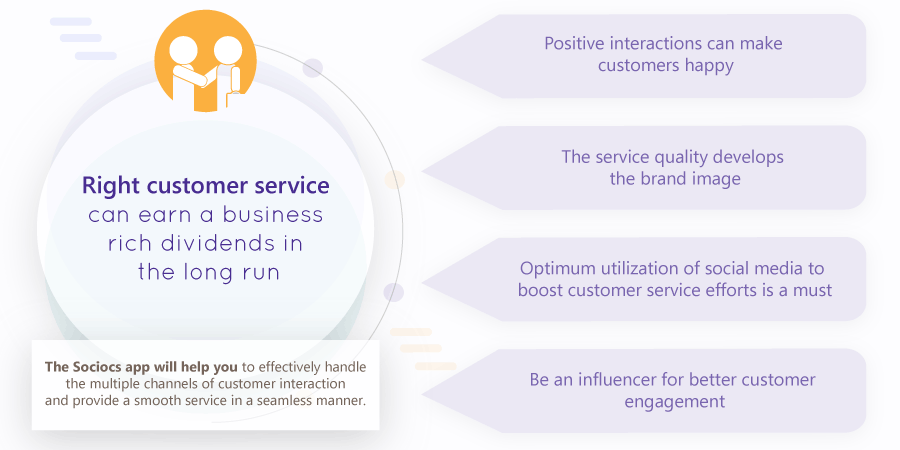 One of the key parameters of any business that can earn you rich dividends in the long run is customer service. As a business owner, completing a perfect sales deal may give you the feeling of having made your customer satisfied but in many cases it is not so. In this technology driven market where businesses need to be sharp in all arenas, the quality of customer service is of paramount importance more than ever. The highly competitive environment has made it difficult for any business to build a strong brand identity and in this scenario, a superior customer service can be the differentiating factor between you and your competitors.
As per a recent survey, poor customer service is costing businesses $75 billion in a year.
Building the right level of customer satisfaction is also an important step to develop customer loyalty in the long run and for that purpose the service that you provide can play a significant role. It is difficult for any business to guess what the customer is feeling or to follow his thought process from a simple interaction. But with the right level of interaction a customer can be made happy and he or she will spread that positive feeling about the business among others. A happy customer will also head back towards your brand while making the next purchase. For these reasons, it is no wonder that many CEOs are treating customer service equally important as the quality and price of a product.
Positive experiences create an impact
With the world moving at a fast pace, the experience that a business or product delivers is something that sticks to the mind. While the service that your brand offers creates the image of your brand, it can also lead to a positive vibe that will spread around with time. The best way to achieve this is by showing the human face of your business and leveraging technology in the best possible manner. For a modern company, it is necessary to know their customers through the right amount of data analysis and deliver what they expect. An impersonal experience provided at the wrong time can take a toll on the brand image.
Research suggests that around 70% of the buying experiences are based on how the customer feels they are being treated by a business.
Making the customer aware of the fact that as a brand you care about their experience with the product and ready to support them in line with your business ethics and values can make a huge difference.
Jeff Bezos, Amazon founder and CEO still deal with mails containing feedback from customers, so that he can identify "pain points" and take necessary steps to address the issues that can be improved to deliver a better experience to customers.
Building a brand centered around the customer
Amazon has been termed as the most valuable brand in the world, surpassing Google and Apple with a phenomenal growth of $108 billion in the last year. One key factor for making this possible is its customer-centric approach through the years. Amazon lays stress on the following points from which other business can learn a lesson or two.
Customer service is at the core of Amazon's business policies at all levels. It offers fast and hassle free service and goes out of the way to provide the customers with the best deals.
Amazon was the first company to empower customers with a transparent product review system making the buyers more knowledgeable and the manufacturers more accountable.
The customer service team makes sure that they are being helpful in a non-intrusive manner. Amazon also uses simple surveys to make whatever necessary adjustments needed and enhance the customer's experience.
A large percentage of its employees have gone through multiple days of call-center training to build the culture of listening to the customer. Developing the culture of understanding the customer through the art of listening leads to the delivery of a better customer service.
Many of the top brands learned about the importance of customer service in the hard way and a prime example of that is Dell. A simple blog by journalist Jeff Jarvis about the bad experience he faced in Dell started an avalanche of customers sharing their negative experiences on blogs and social networking sites. The story was even picked up by New York Times creating further damage to the company's reputation. While Dell took effective corrective measures to set things right and was able to absorb the losses, smaller companies may not be so lucky.
By 2020, customer experience is expected to overtake both price and product as a key brand differentiator. — MarketingTech
A visible online footprint matters
Using social media platforms to boost your customer service efforts is a smart move in today's business scenario. Customers are regularly communicating with brands through questions, concerns or problems they have about any product. Providing effective replies to those queries is very important. It also provides a two-way communication channel with the customer, offering plenty of insightful feedback that helps you to improve your services.
In social media, the response time matters and staying connected and responding consistently can help you build the right amount of reputation. To make the best out of your online presence, you need to use the correct technology that helps to streamline your communications. The Sociocs Inbox is an effective tool to make things easy for you while tackling the challenges of dealing with your customers.
Be an influencer for better customer engagement
Studies have revealed that customers are more likely to make a purchase through the recommendation of an influencer in social media. If you are an expert in the field and can share insights and contents in an effective manner, you can tap into a larger base of the potential customers. Connecting with the customers and gradually spreading your network while providing consistent service is the key to build your reputation as an influencer.
As a first step, you need to identify the right social media platforms where your potential customers are spending most of their time. Being a business owner you can also collaborate with other influencers in the same field to formulate the right strategies that will help in overtaking your competitors. At the same time, with more engagement there also comes a bigger responsibility to keep up with the various queries and service requests that will multiply steadily as your influencer base grows.
---
The Sociocs Inbox will help you to tackle the responsibilities as an effective influencer while keeping the multiple channels for successful customer service open in the best possible manner. Other than offering a simple interface it is also completely FREE. Feel free to reach out to us at hello@sociocs.com with any queries that you may have.