Facebook Messaging vs Live Chat Software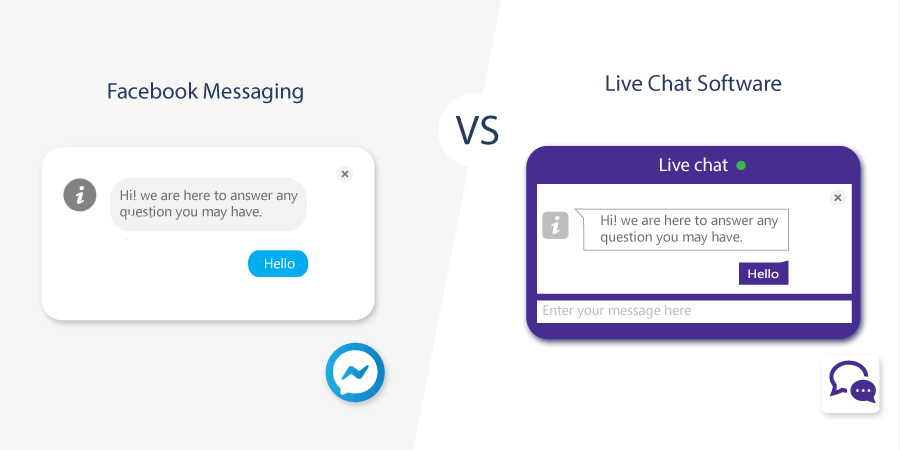 Facebook's Customer Chat Plugin, an extension of the Messenger service has come up as a well- discussed alternative for the Live Chat Software on which businesses have been relying for quite a long time. Upgrading your customer service tool with the advent of newer technology is always a welcoming step but before you plan to shift to this new platform all together, you should be fully aware about the pros & cons related to both the applications.
According to the survey by kayako.com, 63% of people who spend between $250 and $500 a month on online purchase are most likely to buy & be loyal to brands that offer Live Chat.
On-site live chat, be it through a Live Chat Software or Facebook Messenger, still reigns as the consumer – preferred support channel & hence it is an important feature for every business website. The Live Chat support experience on your website is directly related to customer satisfaction, sales, revenue & customer loyalty. So, while deciding a shift in your Live Chat support, it is important to look beyond what easily meets the eye.
So, should you make the shift? Before you decide, let's take a look at the good things as well as the not so good aspects of both the services.
Facebook Messaging Vs. Live Chat Software
Customer Privacy
Business communication with customers more often than not involves customer data. Personal information of the customer or account details are often communicated over Live Chat. The privacy of this customer sensitive data is certain when shared over a Live Chat Software as these services come with clear policies & mostly do not use the data for any other means.
When you are using Facebook Messenger for chat on your website, you are leaving a gap for Facebook to monitor and store this customer information. So, by using a Facebook owned app for chat on your website you will indirectly give permission to Facebook to use your customer data.
The point of customer ease
When it comes to customer care, ease of use is certainly a point worth considering. While the best known Live Chat software are customer friendly, Facebook Messenger is a platform that your customers are most probably already using for day to day communication.
Moreover, multitasking on the internet is not only a hobby of the millennials, it has become a way of internet surfing. One of the noteworthy drawbacks of Live Chat Software is that, to stay connected & continue with the communication, the customer needs to stay on the webpage continuously. This is sure to restrict multitasking, making customer service 'more time consuming' for your customers.
On the other hand, Facebook Customer Chat gives the user full freedom to communicate seamlessly with the business even without staying on the webpage, which adds to the customer experience & ease of communication.
Dependability
Facebook Messaging for website no doubt comes with a bunch of enticing features. However, when it comes to dependability, there are few things you need to be sure about. It is still not clear from the policy of the app if Facebook will continue with this free service in the long run or if they have plans to come up with the paid plans, once the app catches the market.
On the contrary, the Live Chat solutions come with upfront pricing details & you sign a contract after understanding all the terms & conditions.
Social Media Integration
One of the primary benefits of Facebook Customer Chat Plugin is that, it integrates all the Messenger based communications at one place. You easily get all the history of a specific customer chat while communicating on Facebook inbox or on Sociocs inbox (if you are using our platform), which makes customer service easier. For businesses offering or planning to offer customer service over Social Media messaging platforms, Facebook Messenger is an undisputed option & by using the same application on your business website you can simplify the total process of customer communication.
In comparison, even the most advanced Live Chat solutions are fully restricted within your website & if you are using Facebook Messenger to reach customers more quickly over social media & a separate Live Chat for customer communication on your website, there is more than one thing that can go wrong, as finding the thread of communication for a single customer over two unrelated platforms can make customer service complicated & inefficient.
Upgrades & New Features
As your business starts using Facebook Customer Chat plugin on your website, you become a customer of Facebook for delivering customer service to your clientele. Any changes made by Facebook on the app are sure to affect your customer service. Facebook is known for bringing in alterations in their products quite often and coping up with the new additions & alterations frequently can be an extra headache for businesses.
In comparison, traditional Live Chat providers are more unlikely to introduce frequent changes in their platform, which can result in missing out of newer advanced features for better customer service.
Troubleshooting & support
The prominent Live Chat Software providers maintain their own Customer Support team & ensure troubleshooting within minimum possible time should you or your customer have an issue with the chat. There are human representatives with thorough knowledge of the software to address the problem immediately & resolve it.
However, when you are using the free Customer Chat plugin from Facebook you are not likely to get the support of a dedicated customer service team directly. Any issue with the plugin might take more time to resolve.
The cost point
Facebook Customer Chat plugin is a free service. Being a Facebook product it is highly advanced as far as technology is concerned & offers user friendly communication features without any charges.
Live Chat Software, on the other hand, comes as a regular expense for an online business & opting for more advanced technology can make the business spend more for it. Facebook Messaging service is an effective platform & it can help your customer communications to be more precise without any added cost.
52% online consumers will abandon purchase, when unable to find instant answers to their queries.
So, when it comes to choosing the platform for answering customer questions instantly on your website, you should take a well informed decision.
---
If you are planning to switch to Facebook Customer Chat Plugin from a Live Chat software or looking to use the Customer Chat Plugin for the first time, but not sure about how to implement it, Sociocs can help. If you need help with the change, write to hello@sociocs.com, and we will get back to you at the earliest.