Common customer service mistakes in the digital domain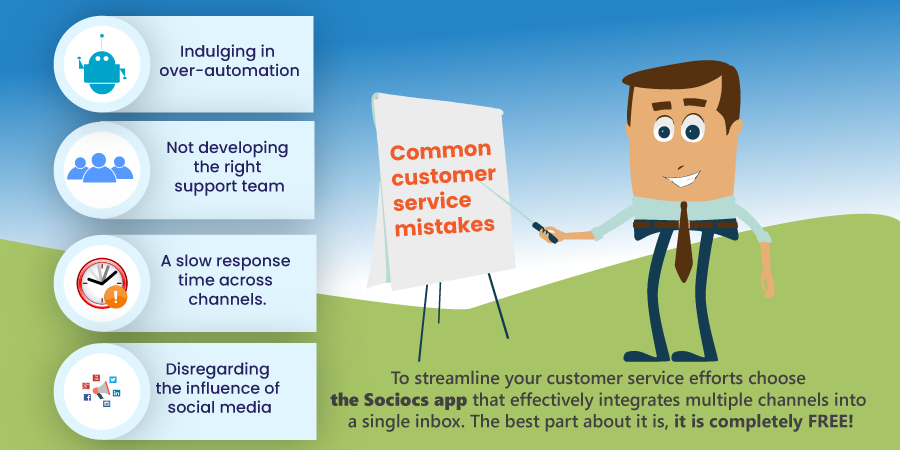 The right level of customer service is the primary supporting column of any digital business. Even with the best products in the market, your business will fall behind the competitors if the level of customer service is not high. Good customer service is the key to earn customer loyalty and drive customer retention leading to the expansion of profit margins. But even the most customer-centric companies cannot avoid making mistakes in one way or the other. While smart businesses learn from their mistakes and improve, a few others tend to repeat the same ones, thereby driving the customer towards their competitors. At the end of the day, the word about negative customer experiences can spread about, resulting in a negative impact on the business.
US companies lose an estimated amount of $41 billion each year due to poor customer service. — Vonage
The good thing is that most of these mistakes can be avoided or remedied with some effective measures. If your company is guilty of making a few mistakes mentioned in this article, know that it is never too late to make amends. Mistakes can happen due to a variety of factors like habits, errors, inertia, bad decisions or technical glitches. Along with a commitment of putting the customer first, delivering flawless customer service across all digital channels also depends on the implementation of the correct skills and standards. This also needs the right level of support and encouragement from the management so that a focused effort can be made. Let us take a look at some of the errors that businesses commit and the ways to move beyond them.
Indulging in over-automation
While automation is creating a buzz at all levels, depending completely on it can generate a negative impact. Many businesses make the mistake of avoiding all direct contact with the customer. Just because you can automate all channels, it may not be the right thing to do it and eliminate all human-based interactions. Many a times, automation may not lead to cost-savings as it is commonly believed. The study of your customer base and their expectations are very important in this aspect so that you can proceed according to their requirements. While some customers prefer communication through a chat, others may like a direct interaction with a person over the phone. It is necessary to keep multiple channels open and let the customer choose as per their needs and preference.
To move beyond the clutches of automation, a business needs to present a human front to the customers at all point. Instead of making it hard for the customers to find your phone number, take the right steps to prominently display it. Ensure that they need to spend the least amount of energy to get in touch, to show that you are not shying away from direct contact. Missed calls have an adverse impact on customer service so set up an effective voicemail system to make sure that no customer outreach gets overlooked.
54% of customers have higher expectations for customer service today compared to one year ago. — Microsoft
Not developing the right support team
Many businesses neglect the art of customer service and even in this digital age the right skills and manners are absolutely necessary while interacting with a customer. Any show of rudeness, providing incorrect information or apathy on the part of your staff is a serious mistake that a customer will not tolerate. It is necessary to train all the responsible employees in the right techniques of communicating with the customers. This should be the right balance of being polite, patient, and attentive while giving the customer ample time to explain their issue or vent their frustrations. The agents should be trained to remain calm and apologize as needed in order to diffuse any tense situation and find the right resolution for a problem. Even after the situation is resolved, it is best to provide a follow-up call to let the customer know that you care about the successful resolution of the issue and leave them with a positive feeling.
Another aspect of building a good customer support team is to hire people with the correct attitude and provide them with the right level of motivation to deliver the best services. It is also necessary to empower the team through adequate training so that they feel confident about making the right decisions that best serve the client. That way you will not need to micromanage every issue that comes up. Positivity, appreciation and a respectful attitude within the team will trickle down to the customer and develop the foundations of excellent customer service.
People are likely to share a negative experience with more people than a positive experience
A slow response time across channels
Keeping the customer waiting indefinitely for a response is another mistake that many businesses make. Providing timely and effective service across multiple channels, especially during peak hours, without making customers wait for too long is an extremely important factor. Modern customers seek fast responses from a business just the way they expect it from a personal conversation. It is necessary to stop redirecting customers from agent to agent and provide them consistent service across all the channels.
At the same time, a business needs to merge social identities and identify the same customer across multiple channels. This will cut down on the response time and will also reduce operating costs. In case you have employed a chatbot, identify its limits so that the bot can handover the interaction smoothly to a human agent as needed. Such actions will ensure a seamless transition between channels to provide top-class customer service.
Globally, 96% customers consider customer service an important factor that determines their loyalty to a brand. — Microsoft
Disregarding the influence of social media
Given the popularity of social media platforms, any brand not expanding their customer-service into these channels effectively is taking a wrong step. Engaging with customers on social media will help in boosting brand loyalty and growing market share. Since these platforms keep changing at a fast pace, you need the right tools and resources to deliver a positive customer experience. Collecting and judiciously using customer-related data from these platforms will help you to remain proactive and avoid customer service mistakes. In addition, the data will also allow you to know your customer base more intimately so that you can better understand them and make the best use of various social media communications.
Since social media is also a center for the spread of misinformation, you need to be consistent with your interactions and build the right level of trust for the brand. Apart from customer support and product promotion, you can use these platforms to proactively share information and solutions to help out customers. Customers like to be valued and social media can also be the right channel to develop a positive vibe with loyal customers.
---
These are some ideas that will help you to avoid some fundamental mistakes in your customer service efforts and take corrective measures as necessary. To streamline your customer service efforts choose the Sociocs Inbox that effectively integrates multiple channels into a single inbox. The best part about it is, it is completely FREE!
Don't hesitate to reach out to us at hello@sociocs.com with any questions.