Businesses are riding the digital bus, what is your plan?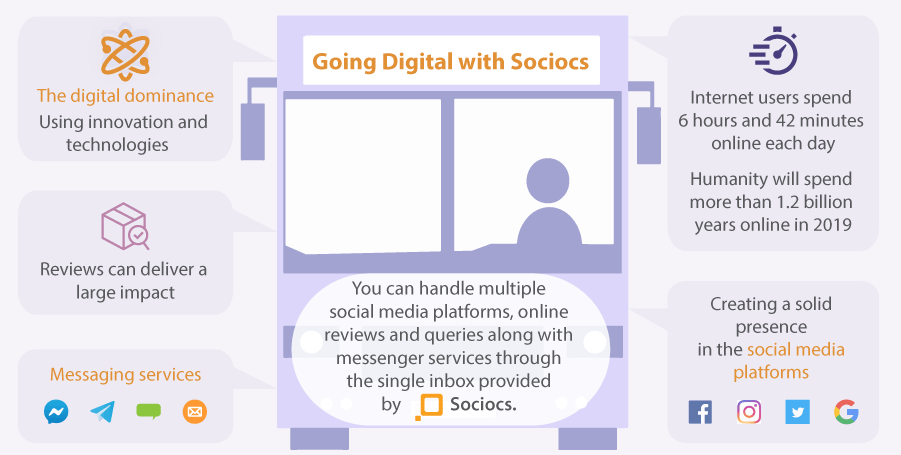 For most companies, "going digital" has been a keyword in the past couple of years. Though it sounds simple, the entire process is quite complex and needs major shift in workplace culture in every segment of an organization. In fact, it is not simple to explain the concept behind going digital as it varies based on the context of every individual business.
By going digital, a business is supposed to make the best use of digital processes and tools to achieve strategic business targets. With the rise of the internet and the dominance of mobile phones in our lives, every aspect of a business is more closely connected than ever before. So transforming any business with a digital makeover also means creating sustainable customer relationships and better comprehension of the customer-needs by using innovation and technologies.
A recent survey among business houses specify that 34% have already undergone a digital transformation while 31% are looking forward to a digital transformation programme imminently.
The digital dominance
With the dawn of the digital age, the dominance of digital businesses have already started impacting the market. This is being led by four big names that have a large economic and cultural footprint. These four companies are Apple, Google, Amazon and Facebook which are among the largest publicly traded companies that have found their paths into the most basic needs of a customer. These basic needs include information, relationships and identity and by doing so they have successfully disrupted the traditional methods of running a profitable business.
It is clear that today, US technology firms dominate the digital business and the key to their dominance is the power of data. Collecting and analyzing the free data that is available and using that knowledge to provide value added service to the customers is the theme that is changing the business landscape. The use of Artificial Intelligence (AI) for data analysis to identify trends and patterns and making the effective use of it is separating the performance of online businesses from the physical ones. For any brand that wants to come under the spotlight, taking the right digital initiatives to push forward the business is definitely a must in this era.
Creating the right online footprint
As the reach of the internet expands out to a wider worldwide population with every passing day, creating a strong online presence of your business is extremely important. Not only will it enhance your brand reputation but it will also allow more customers to discover your brand. As you might have already figured out, one of the best methods to achieve this is by creating a solid presence in the social media platforms which is also an important step in the overall digitization of a business. With various platforms out there you need to choose the correct ones to build the right relationship with your customers. Here are a few suggestions from our end involving the most popular social media platforms.
Facebook
This is the largest platform with 2.7 billion monthly users which keeps on rising. It allows you to create a page for your business so that you can establish a robust brand presence and reach out to customers and other communities.
Facebook takes up 22% of the total internet time that Americans spend on mobile devices, which is higher than Google search and YouTube combined.
Instagram
This is the most popular photo sharing app and using the right image can create the perfect marketing pitch for your products. Use creative photos to promote your business and to deliver the right message to the audience.
It has been established that 90% of information transmitted to the brain is visual and images are processed much faster than text.
Twitter
Building up the right number of Twitter followers and using Twitter cards to put forward your messages can be a great way to enhance your digital marketing plans. It also helps you to develop the right relationship with the influencers and build the right follower base.
Google My Business
This is an easy to use tool that can supply the right set of information about your business to the customers who are making enquiries. It also brings about increased visibility in search results and creates a better experience for the buyers.
Reviews can deliver a large impact
Ready access to the internet has brought about a major change in customer behavior with more and more customers relying on online reviews before making a purchase related decision. Positive reviews can give your business the right boost without the need of spending on traditional forms of advertising. The five-star reviews not only makes your brand more visible but also provides it with a stamp of reliability that makes a great impact on the sales figures.
In a recent survey, 92.4% of respondents replied that they will purchase a product or a service after reading a positive review about it.
Effective connection with the customers
The reviewing platform also allows you to interact with your customers and thank them for posting positive reviews. In fact, a business that replies to customer comments effectively is taken as more caring and responsible unit than those who do not. Monitoring and responding to the reviews, especially the negative ones, is an important step that any business needs to take. Most modern customers are more inclined to find out the details about your business through Google before they engage with it in any way. Seeing lots of positive reviews along with the right responses from your end will definitely help you in earning more trust.
Connecting the multiple platforms in a cohesive manner
If you are a small business owner and engaged in multiple platforms via social media, you need the right time and dedication to effectively handle it. Promoting, replying and sharing the right data at the right moment can be challenging and even a small error can create a major negative impact in the fast-paced digital world. For taking the abstract concepts of digital transformation and converting them into concrete, executable steps you need the right tools that will make the task easy while saving time and effort.
---
The Sociocs Inbox is the right tool that can offer the perfect level of support to make the process of connecting with your customer base smooth and convenient. You can handle multiple social media platforms, online reviews and queries along with messenger services through the single inbox. It is simple, it is effective and the best part is, it is completely FREE!
You can also reach out to us at hello@sociocs.com with any questions.