Use Google Question and Answer to boost up your business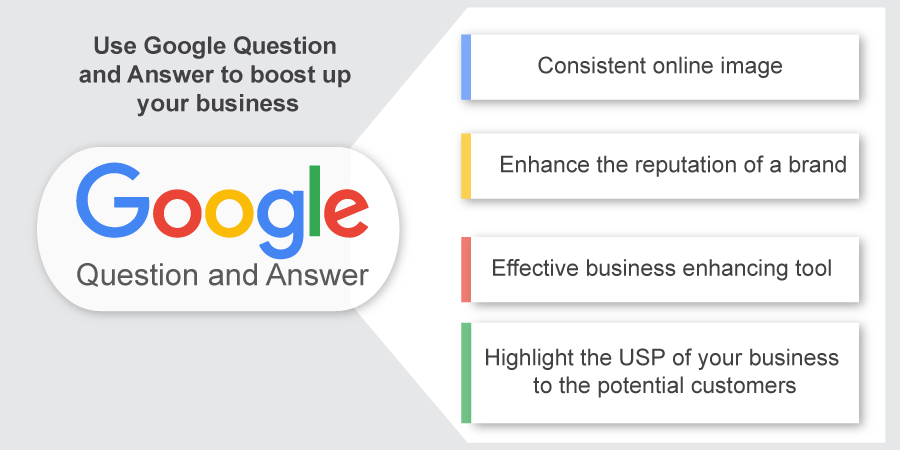 Now that we have discussed about Google reviews in our previous post, it's time to take a look at another related and substantially important feature of Google, the Google Questions & Answers. For small businesses, it is often a challenge to stay up to date with the various Business Profile features, including this one, introduced by Google in the past years.
Google launched its question and answer section in the middle of 2017 to prioritize meaningful conversations between the businesses and customers. Other than providing the consumers with relevant answers to their queries, it also helps them in making an effective choice by offering sufficient information. In this feature, Google also allows the business owners to post and answer their own questions.
The significance of Google Q & A
Before looking into the best practices for staying ahead in the question and answer game, let us take a look at its significance.
In the past few years, a major change in consumer behavior has placed Google as a major platform for contacting and gathering information about businesses. So it is important that a business presents a consistent online image through its website as well as in Google. The question and answer feature is an important tool in this aspect.
A consumer can also leave a feedback on the business using the Q & A platform which can affect the reputation of a brand. Paying close attention to this feature can help you to use it effectively as a business enhancing tool
The statistics prove that the usage of the Q & A feature is on the rise among the customers. It also indicates that once a business receives a question, it is most likely to get more.
This is also an ideal platform to showcase some special features of your business that will help you stand ahead of the competition and also attract more customers. Using the Q & A features in the right manner will allow you to highlight the USP of your business to the potential customers.
Prompt answers are vital
If you are enlisted with My Business, keep in mind that no notifications are provided when a new question is asked on Google but it is important for the business to respond in a prompt manner. Otherwise, there is a chance of the questioner getting the wrong answer from other users or even a competitor. This can have a detrimental impact on the online presence of your business. At the end of the day, the best person to provide the most accurate answer to the questions posted is none other than you.
At the same time, if prospective customers see a list of unanswered questions in the page of the business, it creates a negative impression about the business itself. This may give rise to the idea that the owner is not interested about customer concerns. So even if keeping up with the questions may take some extra time and effort from your end, it is important to do that.
A surprising fact that a recent survey has pointed out is that 91% of the questions posted by prospective customers are left unanswered by the business owners.
The Sociocs app can lend you the right helping hand by keeping you updated on the Q & A section while allowing you to provide the right answers effectively.
Create your own plan
Formulating a content plan for handling the Q & A section is an important step that any business can take. You can list down the range of queries that customers may have and write out the best responses that will meet their needs. Now you can post them from your end, which will help in directing the conversation in your favor by providing accurate responses and highlighting some of the special features of the business.
Requesting loyal customers to up-vote questions so that the best and most popular ones stay on the top is also a good practice. Google posts the answers with the most up-votes at the top so you can up-vote the best response in case there are multiple responses for a single question.
Many customers expect prompt responses from a business as surveys have found that a large segment of the questions deal with time-sensitive information.
How to handle Google Questions
The approach while writing the answers to Google questions should be to use the tone of the customer instead of a marketing-shaded approach. These platform is not intended for advertising and any conflict of interest or impersonation is to be avoided to keep things honest and transparent. You can check the Google Map's User Contributed Content Policy for further details.
While answering questions it is best to be brief and leave to the point replies. It is best not use them for fulfilling SEO objectives.
The approach while writing the answers should be to use the tone of the customer instead of a marketing-shaded approach.
Try to keep things honest and transparent.
Make sure to check and report to Google for spams or negative questions and answers that violate the set terms of service (TOS).
Since you cannot opt out of the question and answer service, it is best to use it effectively to advance your business growth rather than neglecting it. If left unattended this arena can become a huge liability for any business overtime; while on the other hand smartly managing it can enhance your business opportunities and overall financial results by a large extent.
---
To learn about How to use Google reviews to boost your sales, check out our previous post.
---
To get started with your single inbox with Google Q & A as well as Reviews, even for different business locations, sign up on our website, it's completely FREE. You can also reach out to us at hello@sociocs.com with any questions.